---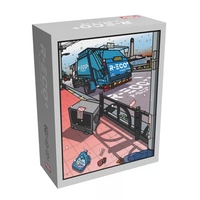 R-ECO+ - Hobby Japan Kawasaki Factory Game Production 20th Anniversary (Import)
Hobby Japan
This game does include English Rules.
In "R-ECO+" you can play two completely different games. One is "R-ECO", a hand management game in which you become a company that collects and separates garbage, collects more garbage than other players, and aims to become a designated company of the city. The other is "R-ECO Recycle", a competition game in which you become the person in charge of a waste sorting plant and aim to become the plant manager by correctly sorting and processing the waste.
"R-ECO" is a game where you skillfully handle the ever-increasing number of cards in your hand and score points. You can score points by putting out cards of the same type together, but it's not that easy. Proactive management is required, as the type of cards played dictates the cards to be withdrawn next. Also, if you exceed the limit of the number of cards in your hand, you will lose points, so you will be worried about playing with a sense of tension from beginning to end.
"R-ECO Recycle" is a bluff game where you put out your hand face up or face down. If you put it in the appropriate area for each type of card, it will be a score card, and if you put it in an inappropriate area, it will be a loss card. The player who gets this score or loss is the last player to put a card in that area. There is less risk if you put out one face up card at a time, but you can't outsmart other players. Sometimes you can get a bigger return by playing multiple cards face down.